So about a month ago I joined the vintage pattern pledge, and promised that I would sew at least four vintage patterns this year. four patterns seems like a no sweat kind of thing for me, since I am used to producing a lot of costumes in a short span of time.
Vintage patterns however are another beast. The directions are often vague or nonexistent, and the pieces themselves are sometimes unmarked. The first pattern I chose however is a pretty easy one- a 1950s half apron. According to the vintage pattern wikia this pattern is dated 1953. This one does have printed pieces which was nice.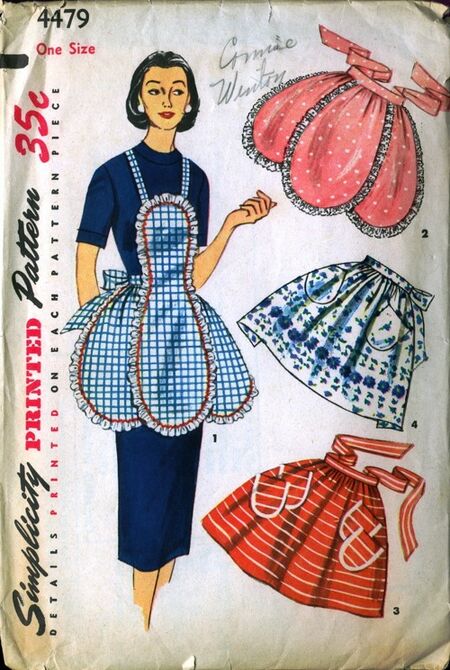 I made four aprons, two of each of the half style. I didn't make the full apron because it reminds me of Mr. Peanut. Not a fan.
The pattern turned out super cute and came together in a couple of hours. I probably could have made them faster if I had not added all of the trim and pockets, etc. but that is really what makes a vintage apron if you ask me.
I used a vintage sheet (1970's judging by the textile colors and style) for the first apron. It was leftover from a dress I made ages ago. The second square one was some over the top fruit fabric I got at Hancock's (I work there. I buy a lot. It's a lifestyle).
It's hard to see the super cute rick rack.
My lovely roomie Genie modeling the vintage sheet apron. Ignore the kitchen mess...


The second set was the tulip shaped pieced ones. I made one out of a fabric that would have been a typical calico from the time period (1950's) and one on a funky 1970's style print left over from a costume.
As you can see in my pic, the waist part of the apron was a bit short. The apron has a flat waist piece that the hanging part of the apron is attached to. I cut out all the apron pieces before making one because I'm brilliant like that. If I were to make this apron again I would make this center piece 2-3" wider to accommodate for my not-1950's-sized waist.
Other than the wideness issue, this pattern was super cute and very quick to put together. Plus it took under a yard of fabric, which made it an awesome scrap buster. And who doesn't love covering everything in rick rack?
Also a special thanks to my friend Drew who lent his professional photography skills to our impromptu kitchen shoot!